at Flagler Place Jun 13, 2016 9:00 am
ALL THE WORLD'S A STAGE
"All the World's a Stage and all the men and women merely players…
and one man in his time plays many parts..." - Shakespeare
Session One: June 13 – July 1
Performance: July 1st at 6:30pm
---
What will your role be?
Campers will learn about customs and cultures from around the world,
while contemplating what their role will be on and off the stage.
---
We are in for an exciting, fun-filled summer! Our summer camp is for kids of all backgrounds and interests, offered at an incredibly affordable rate. Students are encouraged to express themselves, embrace their talents, quirks and individuality. Some of the things campers can expect to learn in Drama include basic acting principles, creative writing, staging, improvisation and stage presence. In Music, campers will learn the fundamentals of singing, rhythms, terminology and vocal performance. In Dance, instructors will introduce campers to various styles of dance – including music theater dance, jazz, ballet and hip-hop.
---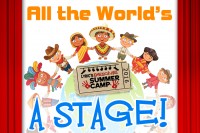 http://ls4.co/1v7C