PBG Lifestyle Magazine
by
Patricia A. Smith
Posted on
January 27, 2015
A not so funny thing happened on the way to Stuart's historic Lyric Theatre renovation. When the esteemed landmark closed its doors last May for what was supposed to be a $1 million "facelift" that included updated seating, new carpeting, smoothed out walls, better entrances with more light and relocated, modernized box offices, it was discovered that many of the columns (which were originally built using river water and river sand) that have held up the nearly 100-year-old theatre were also in need of replacement. A total of $1.5 million later with often 50 people working at a time, the Lyric reopened in November as planned.
"It's been an interesting year," muses John Loesser, executive director of the Lyric. "With the fundraising campaign (which will continue through July to shoulder the additional costs) we managed to get the theatre completed and structurally sound, improve the sound system, pay off the mortgage, and open up in November on schedule. More than 90 percent of the work was done for the audience to make it more comfortable and beautiful (including a new Steinway piano).
"It has not lost any of its magic. We made the Lyric more elegant while maintaining the integrity and intimacy of the theatre. People love the new look. We are very pleased," he added.
The Lyric is an incredible workhorse with a colorful history. Originally a silent movie house, the Lyric has been bought, sold and transformed many times. When Loesser arrived 16 years ago to take over the reigns, the Lyric had 60 events on the calendar annually and generated about $200,000 in ticket sales. There were probably 10 restaurants within walking distance. Fast forward to today and those numbers have changed significantly: The Lyric now hosts 400 events annually and generates $2 million in tickets sales with over 80,000 people coming through the doors yearly. The number of restaurants within walking distance has tripled.
"The appeal of Stuart has expanded greatly and it has become a destination," says Loesser. The Lyric Theatre is certainly one of the many reasons. "Every year I try to find different shows for a wide variety of interests and people." Loesser's successful formula includes entertainment that covers everything from country and pop to children friendly and nostalgia themed shows.
"Part of the trick is to try to find something for everyone," Loesser says.
Call it a trick or just plain magic, but the Lyric Theatre looks like it is set to be around for at least another century to keep everyone entertained.
To learn more about the Lyric or purchase tickets for upcoming events, please visit www.lyrictheatre.com.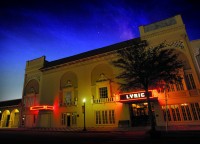 http://ls4.co/RiF